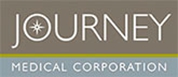 November 10, 2021
VIA EDGAR
Securities and Exchange Commission
Division of Corporation Finance
100 F Street, N.E.
Washington, D.C. 20549
Re:
Journey Medical Corporation
Registration Statement on Form S-1, as amended
File No. 333-260436
Ladies and Gentlemen:
Journey Medical Corporation (the "Company") hereby requests, pursuant to Rule 461 of the General Rules and Regulations under the Securities Act of 1933, as amended, that the effective date of the above-referenced Registration Statement be accelerated so as to permit it to become effective at 4:00 p.m. EST on November 10, 2021, or at such later time as the Company or its outside counsel, Alston & Bird LLP, may request via a telephone call to the staff of the Division of Corporation Finance of the Securities and Exchange Commission.
Please contact Mark McElreath of Alston & Bird LLP, the Company's counsel, at (212) 210-9595, as soon as the Registration Statement has been declared effective, or if you have any other questions or concerns regarding this matter.
Journey Medical Corporation
By:
/s/ Claude Maraoui
Name:
Claude Maraoui
Title:
President, Chief Executive Officer and Director